[Sportswriting.]
The Journeyman Jive.
Originally posted to Substack on November 6, 2021.
The intense, latent frustration set on Mike White's face said it all. And for those who weren't good at picking up on context clues, his rough shaking of the head made it obvious. He might as well have been mouthing what every fan of the New York Jets, the Green and White, Queens's (now North Jersey's) Finest, owners of one winning season out of the last ten, was saying to themselves that Thursday night:
Why can't the Jets have nice things?
---
In the spring of 2021, the Jets picked The Guy, a quarterback in the first round of the NFL Draft, their eighth The Guy in franchise history. Only four of those The Guys—Joe Namath (the Original™ The Guy), Richard Todd, Ken O'Brien, and Chad Pennington—have led the Jets in passing five seasons or more. Zach Wilson, Provo's Mad Bomber, himself replaced the last The Guy, Sam Darnold, sluffed off to the Carolina Panthers after languishing for three traumatic seasons that saw some of the worst Jets football since the days of Rich Kotite and Lou Holtz, rounding off a decade that was a near-repeat of the anemic 1970s teams.
In a display of either Promethean levels of foresight, or sheer Jetsian stupidity, management didn't go out and get a veteran quarterback to mentor Wilson. Instead, they sent the veteran, Joe Flacco, to Philadelphia instead. Fans of the team anxiously waited for who they would bring in as a stable presence in the quarterback room. Would it be Gardner Minshew, cut by the Jaguars after losing his job to their newest The Guy, Trevor Lawrence? Would it maybe even be Cam Newton, who lost his job to the Patriots' newest The Guy, Mac Jones?
It would be none of those players. Instead, the Jets rode the preseason and into the regular season with Mike White and Josh Johnson, two Guys—not to be confused with The Guy, these are the kind of Guys you'd forget even played the sport if it wasn't for a football card or random image of them in a team uniform—backing up their highest-ever first round quarterback selection.
Enter Mike White.
---
White's fate prior to the sixth game of the 2021 NFL season seemed to be that of so many, indeed the vast majority, of players who come into the NFL: itinerant success at best, punctuating through stretches of hanging out on practice squads and bouncing from team cut list to team cut list. Such is the fate of many college players with incredible promise who struggle to stand out on their own in the United States's only operational professional American football league. Coming off of a spectacular couple of seasons at Western Kentucky University, he was drafted by the Dallas Cowboys, assigned to their practice squad, then do-si-do'd with the Jets' 53 man roster, including being cut by the team four times in the span of a year.
There was no indication of what was about to happen.
The 1-4 Jets were in the midst of a historic throttling by their ersatz rival, the New England Patriots. It's been a Venusian minute since the Jets-Patriots rivalry has been remotely competitive, but this is a lowest of lows. Not since the Rich Kotite-coached Jets, who went 4-28 over two years (with three of those wins in Year One), have the Patriots put over 50 points on New York. But it happened this day, in a 54-13 thrashing. And to add injury to insult, Zach Wilson is hurt.
It's his knee.
Thankfully, the worst-case scenario is ruled out shortly after the game, and he'll be out a few games as opposed to losing his entire rookie season.
But wait a minute.
Who's going to play quarterback? There's no veteran.
Again, enter Mike White. Who…doesn't play well. He completes most of his passes and throws for a touchdown, but also two interceptions. He was asked a *lot* of for his first regular-season playing time in his career, but his aborted attempt to salvage the game left the team with a huge question going into the next week's game. Who plays?
Coach Robert Saleh channels his inner Dick Vermeil and, functionally, says, "We will rally around Mike White. And we will play good football." Small problem with that: their opponent.
The Cincinnati Bengals are red-hot, playing their best football in almost a decade, with their newest The Guy, Joe Burrow, and newest The Guy's Right-Hand Man, Ja'Marr Chase, lighting up defenses in a way that very few people ever saw coming. Riding 5 wins out of 7 games, the Bengals sat atop the AFC North and indeed, the entire AFC, looking dominant in a way that they hadn't in an age. They've just finished enlightening the Baltimore Ravens, themselves also very good, and their quarterback Lamar Jackson, almost putting 50 points on them. The Jets' schedule wasn't easy coming into the season, and at this point it's not looking like they'll get more than 3 wins. The fanbase is bracing for the worst, reeling at the thought of what the Burrow-Chase Express will do to one of the league's youngest and worst-performing pass defenses.
But the team never thought of it like that. To the Jets, the now 1-5 Jets, this was just another football game. This is what they're paid to do. And like any other line of work, they went into Bengals Week with the All Gas, No Brake mentality that Coach Saleh has instilled from the very beginning.
And who emerges from the opening drive but Mike White the Western Kentucky Hilltopper, the Mike White who threw for over 4,000 yards in each of his two seasons at WKU, not Mike White the Guy who's been sitting on practice squads for the back third of the last decade. He never doubted himself or his teammates, and they never doubted him. He took the biggest stage of his life with the cool-headedness of a veteran and never looked back.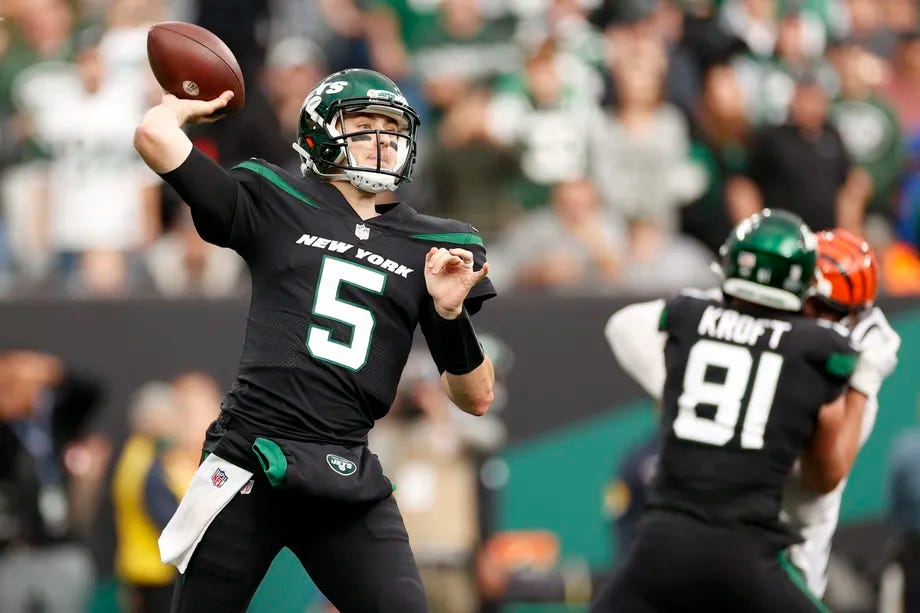 He put on a passing clinic that was so precise and efficient, it'd make Ken Anderson proud. Instead of Wilson's tendency to unload his mortar launcher of an arm to his favorite targets, namely newly-acquired reciever Corey Davis, White spread his attentions almost evenly across almost a dozen different passing targets over short-to-medium range distances. He opened with 11 straight completions, and finished the day with only 7 incompletions out of 45 attempts. But that was only a fraction of what got people talking. 405 yards. For only the second time since 1950, a quarterback finished with more than 400 yards of passing in his first career start, joining Cam Newton, and he became the first ever to throw for over 400 yards and 3 touchdowns. He also threw two interceptions, neither of which were his fault.
It shocked the football world, Jets fans probably most of all, but his teammates acted like it was well-known this could happen. In interviews they consistently said that his talent was known and that he was leader from the moment it was needed of him, and from the gameplay they were certainly telling the truth. He looked confident and supportive and all the things you need from a team leader. His face bore the smile of someone who'd rose through adversity to help his team win—and prove a whole sports community full of doubters wrong.
Entering the short week before facing the 3-5 Colts on Thursday, there was a renewed confidence in a season that, to everyone not playing professional American football in a Jets uniform, was all but lost. If they won this game to go to 3-5 on the season, games later on that were considered unwinnable suddenly looked just a smidge competitive. The offense was starting to gel for the first time all season. And over the days leading up to Thursday, the country started to rally behind White, a guy that virtually nobody outside of the Jets fandom, and not many within it, even knew existed. With tragedies in Las Vegas and controversies out of Green Bay dominating the headlines this past week, football fans needed a feel-good story, and they found it in Mike White.
And for the majority of the first quarter, he delivered. While not replicating perfection, he came very very close, capped by a gorgeous long pass to a wide open Elijah Moore in blown coverage to even the score at 7-7 and filling everyone watching with the feeling that this game was going to be very close and very interesting, much more interesting than a weeknight matchup between two teams with losing records had any promise of being on the face of it.
And then he banged his arm into Colts defender DeForest Buckner's as Buckner went in for a tackle.
And Mike White went to the sideline.
Oh no. Not again.
Enter Josh Johnson.
---
My first exposure to Josh Johnson was a sunny February weekend in 2020. COVID had only been in the US for a month at this point and despite it wreaking havoc all over East Asia, American and Canadian governments were treating it as a state-level health concern, something that most people had only heard about on the news.
The calm before the storm.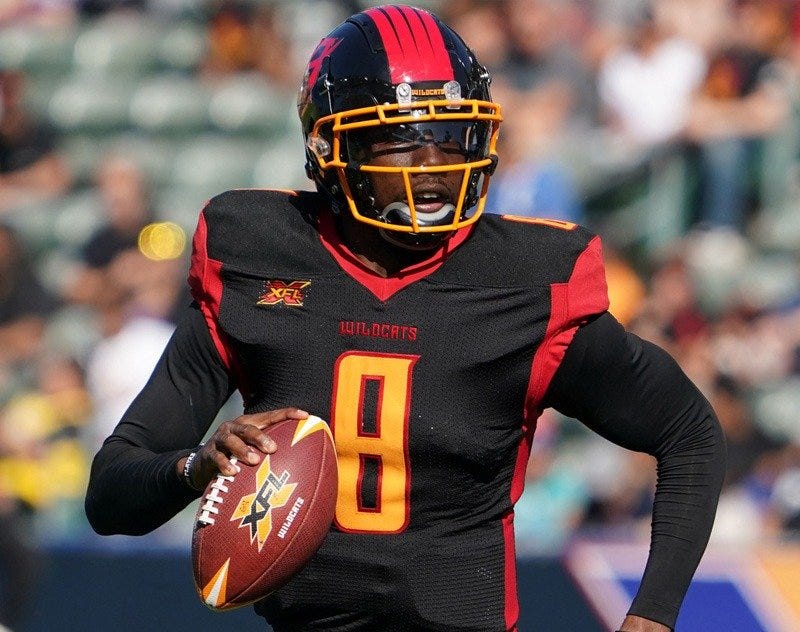 But on this day, that wasn't on the mind. What was on the mind was the really solid performance coming out of Johnson, the new quarterback for the Los Angeles Wildcats of the rebooted XFL. I thought that he, like most XFL players, was young, and someone who'd bounced around on a couple of practice squads before finding new life in the brand-new league.
I was right on the second point. Wrong on the first. He'd been playing since the late 00s, and had been on almost half the teams in the NFL, and two other American football leagues, by the time he played for the Wildcats.
In a season dominated by the stellar performances of quarterbacks like PJ Walker and Jordan Ta'amu, Johnson slid under the radar despite putting up very respectable numbers. He handled his job like someone who'd been playing for years, which, unbeknownst to me at the time, he had. His sideline interviews were always interesting, mild compared to the other personalities in the league, and with a mind for football. Like most ex-XFL players, I quietly rooted for Johnson to find a place on an NFL roster. He did, on that of my own team.
Before the Colts game, Coach Saleh activated Johnson from the practice squad to the regular roster, ahead of Joe Flacco, who the team had just sent a sixth-round draft pick to Philadelphia for to get him back. Many questioned the move. I waited patiently. I saw what Johnson was capable of when given a steady chance, and when the rug isn't pulled out from under him at the minute he falters. Sure, he hadn't looked spectacular in the one drive against Cincinnati when he stepped in for White, but that was one drive. Hardly a reasonable field of evidence.
He stepped onto the field with the same steady confidence he had with the Wildcats, and immediately I knew we were in good hands.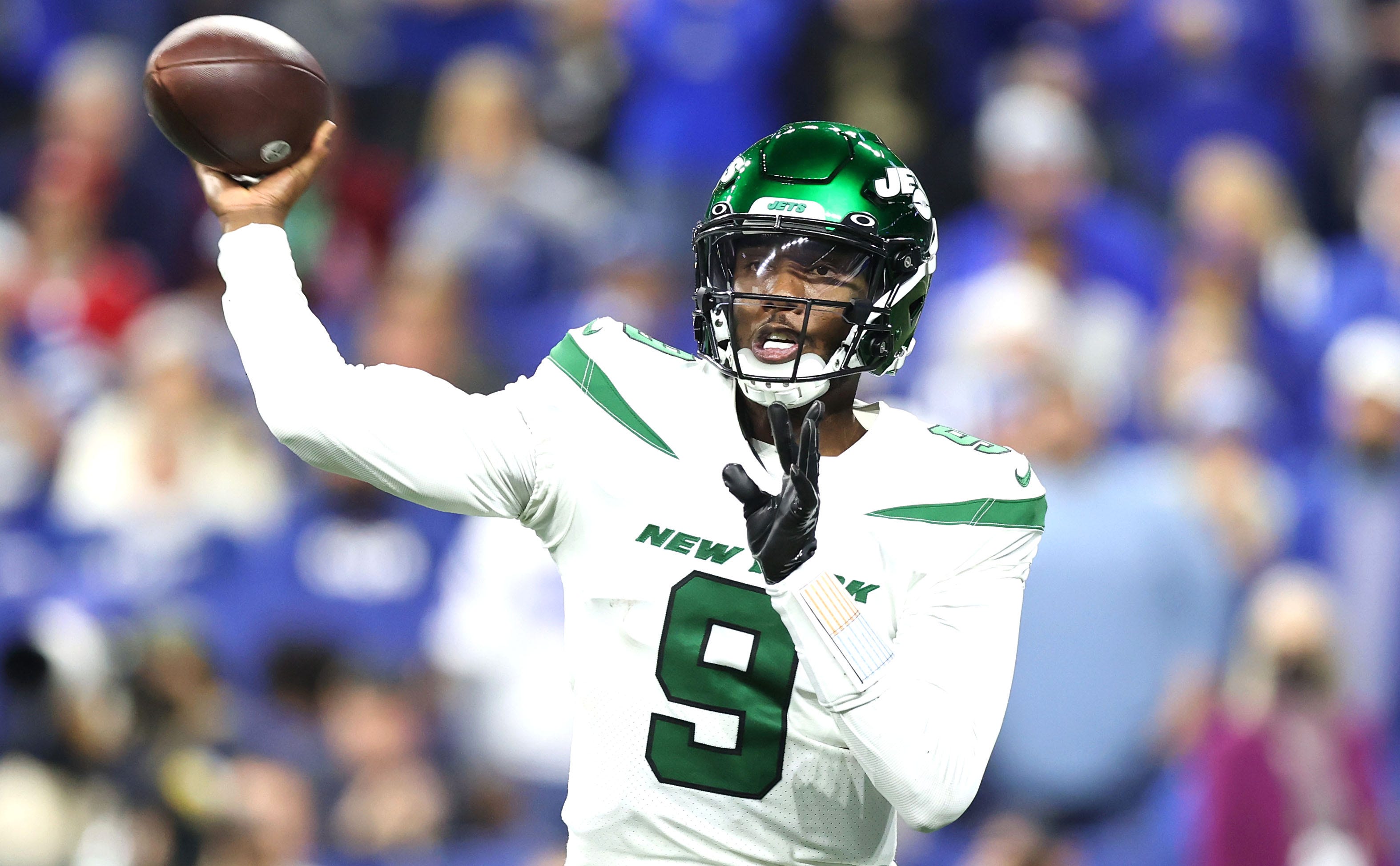 A 42-10 Colts lead started to melt away as Johnson made up for lost time and got cooking. Employing the same tactic White had against the Bengals—spreading the ball around to 11 different recievers and exploiting gaps in the Colts' defensive coverage rather than necessarily targeting mismatches—the Jets outscored the Colts 20-3, a chance at a comeback, however infinitesimal, ended when Johnson threw an interception at the goal line and sealed the game for Indianapolis.
Losing 45-30 to a team with a losing record on primetime national television certainly doesn't look good, and there were certainly performances on Thursday night (or lack thereof) that needed answering for. But the offensive performance wasn't one of those. For the second time in two weeks, a man who'd not played more than a few minutes of an NFL game before came in and showed Jets fans what competent quarterback play looks like for the first time in a very long while.
Linebacker CJ Mosley said, "After the game, he told everyone in the locker room he appreciated us. We appreciate him."
We appreciate Josh Johnson. We appreciate Mike White. We appreciate the unsung heroes of sunny autumn mornings and primetime night lights, who step in with the leadership and confidence of Johnny Unitas, another semi-pro athlete who got noticed by chance and became the first all-time great quarterback of the NFL's modern era.
At the end of the game, we fans have a tendency to immediately think big-term, especially us fans of historically bad teams. We want wins, dammit, and wins now. But by focusing on these discussions, of whether we stick with White or Wilson come next Sunday against Buffalo, we miss the beauteous performances of professional athletes who trained their whole lives for this moment.
For a Sunday, Mike White was Johnny Unitas. For three quarters of a Thursday, Josh Johnson was Johnny Unitas.
If these are the last games either of them ever play again, they should still be extremely proud. They deserve to be.
---